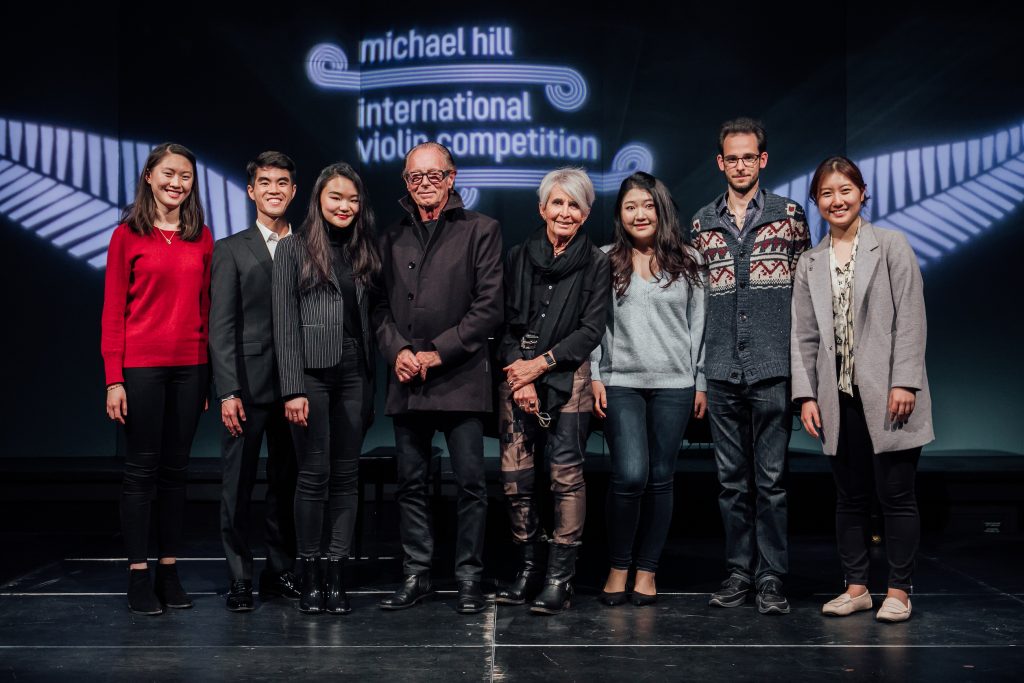 L-R: Victoria Wong, Eric Tsai, Angela Sin Ying Chan, Sir Michael Hill, Christine, Lady Hill, Anna Im, Jevgēnijs Čepoveckis, Hannah Cho
After an intensive four days of competition in Rounds 1 and 2, our International Jury have agreed and announced the six Semi-finalists who will progress to the next round of the Competition.
They are, in their performance order:
Wednesday:
Do Gyung (Anna) Im (South Korea) – Quintet in G minor K516

Victoria Wong (Australia) – Quintet in C major K515

Hannah Cho (USA) – Quintet in G minor K516
Thursday:
Jevgēnijs Čepoveckis (Latvia) – Quintet in G minor K516

Angela Sin Ying Chan (Hong Kong) – Quintet in E-flat major K614

Eric Tsai (USA) – Quintet in G minor K516
The Semi-finals take place in Auckland Town Hall this Wednesday 5 and Thursday 6 June.
You can buy tickets
here
, or watch the live stream on our
Facebook page
or on
our website
.
The winner of the NZ Commissioned Work Prize for the Competitor whom the Judges decided best performed Lyell Cresswell's
Chatoyance
is Harry Ward (pictured below with Lyell). Harry receives NZ$2,000, which is generously donated by Dame Jenny Gibbs. 

We wish the very best of luck to all our Semi-finalists, and look forward to enjoying a robust week of masterclasses, workshops and Classroom Conversations with the superb Quarter-finalists who did not make it through to the next round.
For more information on which development and community events are open to the public, please have a look here.