Today I spent time talking to some of the spectators. Peter Wilson has strong memories of the first competition in 2001. When an afternoon session at The Memorial Centre was disturbed by the clatter of rugby boot sprigs on concrete, Peter was tasked with going downstairs and diplomatically asking the rugby team to take their warmup outside.
Peter Wilson and Gerda McGechan sponsor German competitor Matthias Well. Matthias performed today for the first time and surprised audiences by inviting blind Queenstown musician Mark Wilson to play Russian folk songs with him in the 'Ad Libitum' / Own Choice category. Their performance oozed joy and many spectators left the room with huge smiles on their faces.
In the 'Ad Libitum' category competitors are asked to introduce themselves to the audience and speak about their piece. This is a popular category with the audience, and it allows the judges to see how well the performer can communicate verbally with their audience. It must be nerve-wracking – English isn't the first language of many of these violinists.
Today, Angela Sin Ying Chan from China spoke emotionally about her selection of a Chopin Nocturne, which she played in memory of her late grandmother – a flutist and a loving and supportive presence in Angela's life. This was one of her grandmother's favourite pieces.
Her next choice was a complete contrast. Angela chose it because it reminds her of nature and New Zealand – the sun rising, the wind blowing and leaves falling from the trees. Angela also imagines animals playfully chasing one another. She laughed recalling the chickens at her host family's home fighting for food.
I spied New Zealand-born violinist Robin Wilson among the audience today. Robin lives in Australia where he has developed an extraordinary passion for teaching. He is Head of Violin at the Australian National Academy of Music and is nurturing a new generation of talented young violinists. Last year his 10-year-old student Christian Li won the prestigious Yehudi Menuhin Competition, Junior division. Robin is in Queenstown to support his student Harry Ward through his first big international competition experience.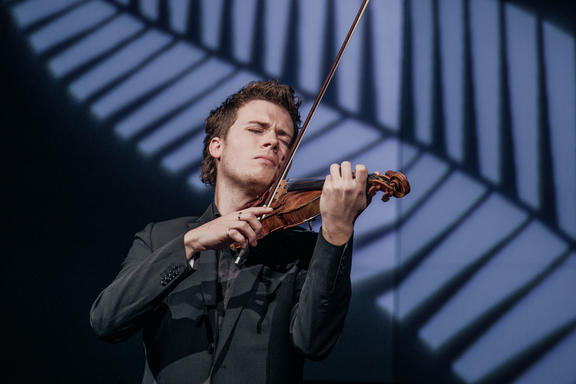 In Harry's introduction to Penderecki's Solo Cadenza, he greeted everyone with a big "gidday" (all the Kiwis giggled) before launching into a compelling story about his enthusiastic brother who opened his eyes to this piece, which isn't one of the standard classics.
"I had no idea what this music was saying", Harry remembered. His brother convinced him to give it another listen…
"I want you to listen to it in the same way as you might listen to the sounds around you as you go for a walk, whether that be through the beauty of nature or the bustling streets of the city. You listen to those sounds – there's many different sounds – with no expectations, no preconceived ideas."
With this simple analogy Harry encouraged the audience to listen and find out what the Penderecki meant to them.
Tomorrow the first round of quarter-finalists perform soaring sonatas, a brand-new jewellery-inspired commission by New Zealand composer Lyell Cresswell and virtuosic show pieces.
Join the livestream on RNZ Concert's Facebook page, or on the RNZ Concert website. From 9:30am Lyell will talk about his piece 'Chatoyance' before the first session of the day, which starts at 10am.