There was a snow warning across the region, but the Queenstown Memorial Centre was sizzling as the Competition kicked off on Friday 31 May.
Round 1 | Day 1 saw the first eight competitors perform solo Bach works, Paganini Caprices, charming salon pieces and the hotly awaited and always enlightening Ad Libitum section in which they choose – and curate – their own work.
Ad Libitum
Ad Libitum means "according to pleasure" and as such the competitor chooses a work which resonates with them. Each is required to introduce their chosen piece and its (or their) significance to the judging panel and audience. It's not just a test of skill and artistry, but of presentation skills and creativity.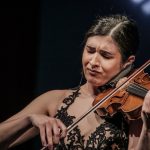 Russian Rimma Benyumova's selection was Ysaÿe's Sonata for solo violin in D minor. She said, "When I thought about what I should add to this repertoire, I thought it would be impossible not to mention another amazing performer and violinist of the 20th century, Belgium violinist Eugène Ysaÿe" According to Rimma, the piece was written as an answer to Bach's solo sonatas and partitas. Watch Rimma perform here.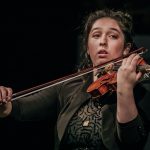 Emmalena Huning from Australia chose Waxman's Carmen Fantasie, "Not because I can relate to the title character's somewhat questionable choices in life, but because I can relate to her free-spirited, untamed and almost careless nature… it's always a thrill to play and I hope that comes across," she says. Watch Emmalena's Ad Libitum here.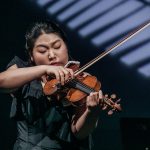 South Korea's Anna Im played Ysaÿe's Sonata for solo violin in E major Op 27 No 6. Anna speaks to the personality of the piece which was dedicated to the Spanish composer Manuel Quiroga. "The middle of the piece contains a habanera, which gives the work a very improvisatory and imaginative atmosphere. I wanted to include this piece today because of its charm and its wide variety of flavours," she says. Watch Anna perform here.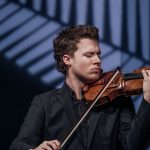 Australia Harry Ward told a personal story about his choice, Penderecki's Cadenza. He was introduced to it by his brother, to whom Harry had said, "I told him I don't like it, it's not my thing."  When making Harry listen to it again, his brother said, "This time I want you to listen to it in the same way you might listen to the sounds around you…withno expectations, no preconceived ideas," he said. Harry went on to tell the audience, "It's really when those preconceived ideas are redefined and expectations are broken that you find the real learning and inspiration." Listen to Harry here.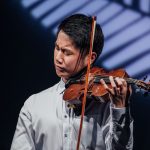 Tianyu Liu from China also played an Ysaÿe – the Sonata for solo violin in E major Op 27 No 6, because, he says, "Ysaÿe was the greatest successor of Bach and Paganini and they are the three giants of violin history. They made huge contributions to the development of violin music, and I would like to show you this violin history." Watch Tianyu perform here.
Irish born Mairéad Hickey performed Mozart's Violin Sonata No 20 in C major, K303. "Many people told me I was crazy to play this in the competition… I chose it for two main reasons, the first is, it's by Mozart and I'm kind of obsessed with Mozart, he's probably my number one desert island composer. The second reason is that it's real chambermusic and I grew up playing a lot of chamber music… it's through chamber music that I learnt to love music," she says. Watch Mairéad perform here.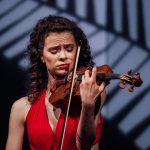 American Jacqueline Audas performed Lutoslawski's Subito, of which she said, "Subito means 'suddenly' and, from the very first note, Lutoslawski quite brilliantly plays with our expectations." She spoke about the her personal connection to the song – Lutoslawki's diagnosis with terminal cancer and her uncle's similar diagnosis."With this piece, Lutoslawski perfectly catches the unpredictable nature of life. We are forced to recognise that change is inevitable and often we don't have control over the outcome of a situation. Studying and performing his piece has been an opportunity for me to explore this very frustrating and yet undeniably necessary aspect of our lives." Watch Jacqueline perform here.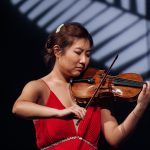 Hannah Cho from the USA concluded the first day of the Competition with a final Ysaÿe piece, Sonata for solo violin in G minor Op 27 No 1 Mvmt 3 & 4. "This sonata is dedicated to Joseph Szigeti, who was a Hungarian violinist and a legend of his time." She told the audience how she felt connected to him, by describing him as a "citizen of the world", which is something she hopes to become by continuing to travel and being exposed to as many cultures as possible. Watch Hannah perform here.