Rain has come to Queenstown and there is talk amongst the locals that… "if the temperature continues to drop on the Crown Ranges it might just snow"… This part of New Zealand's South Island is a place full of extreme contrasts, something that is also reflected so beautifully in this competition with the incredible range of repertoire performed across the eight days.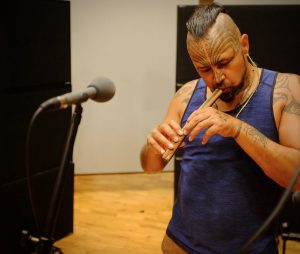 Round 2 is our chance to hear from all 16 competitors again but a particular highlight of this round is each performer's presentation of the specially commissioned work by New Zealand composer Michael Norris.
The work is entitled Waipounamu after Te Waipounamu, the indigenous name for New Zealand's South Island meaning 'greenstone waters'.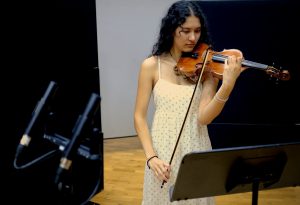 The work has been scored for Solo Violin and Fixed Electronic Sounds. The backing track or 'sonic tapestry' was recorded by respected Kiwi musicians Mana Waiariki (violin) and taonga puoro/indigenous instruments of Aotearoa experts Jerome Kavanagh and Ariana Tikao working together with Michael during a single recording session.
Each competitor then received the score and backing track two months prior to the competition, with the challenge of researching and interpreting work with its accompanying soundscape in order to present their 'own' world premiere performance.
Watch our LIVESTREAMS across Sunday and Monday to hear each performer's interpretation and visit our previous blog post interview with the composer Michael Norris to learn more about this fascinating work.
ROUND 1 now available to view on MHIVC Youtube
For anyone who missed our first two days of performances or if you'd like to revisit the first round of performances again, these recordings are now being uploaded to our MHIVC Youtube Channel.
We will be adding all performance sessions across the entire competition and will keep you posted with how to view these as the competition progresses.
PLUS follow us on Facebook and Instagram for lots more imagery and behind-the-scenes pics from the Michael Hill International Violin Competition.
QUARTER FINALS  |  Performers listed in order of appearance
ROUND 2 – Session 5
9:30am | INSIDERS' GUIDE – Perfect Partners? with Lucas Baker
10:00 to 10:40am  |  Kingston Ho (USA)
Norris Waipounamu
Faure Violin Sonata in A Major, Op 13
Paganini Variations on Nel Cor Piu Non Mi Sento
10:45 to 11.30am  |  Hani Song (Switzerland/Germany)
Norris Waipounamu
Prokofieff Sonata No 2 in D major
Hubay Carmen Fantasy
BREAK
11:45 to 12:30pm  |  Yeyeong Jin (South Korea/USA)
Norris Waipounamu
Beethoven Sonata No 7 Op 30, No 1
Saint-Saëns Introduction and Rondo Capricioso
12:30 to 1:15pm  |  Gabrielle Després (Canada/USA)
Norris Waipounamu
Beethoven Sonata No. 8 in G major Op 30, No 3
Chausson Poème
ROUND 2 – Session 6
2:30 to 3:15pm  |  Eva Rabchevska (Ukraine/Germany)
Norris Waipounamu
Fauré Sonata in A major Op 13
Ysaÿe Sonata No 6
3:15 to 4:00pm  |  Jiayi Chen (China/Austria)
Norris Waipounamu 
Beethoven Sonata No 6 Op 30, No 1
Ernst Fantasie Brilliante on Rossini's Othello
BREAK
4:15 to 5:00pm  |  Tianyu Liu (China/USA)
Norris Waipounamu
Ravel Sonata for violin and piano No 2 in G major
Carmen Fantasy arranged by Franz Waxman
5:00 to 5:45pm  |  Karen Su (USA/Belgium)
Norris Waipounamu
Prokofiev Violin Sonata No 2
Wieniawski Polonaise Op 4