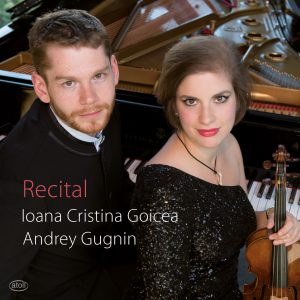 Violin-lovers can relive the magic between Competitions, because 2017 winner Ioana Cristina Goicea's new album, Recital, was recently released on the Atoll label.
The album includes repertoire by George Enescu, (a nod to Ioana's Romanian heritage), and music by Johannes Brahms and Franz Schubert completing the offering. The recording is based on the finale live performance of Ioana Cristina's 2018 winner's tour with Andrey Gugnin (winner of the 2016 Sydney International Piano Competition).
Ioana described it as "one of the most intensive, tiring and exciting experiences for me so far."
"I would say this positive pressure made us give everything in that important moment, and hopefully the people listening to our recording will feel it," she says.
An album is never just the work of the musicians – and Ioana is quick to acknowledge this.
"From the beginning, we [Andrey, myself and Wayne, the producer] just understood and interacted perfectly with each other," she says.
The producer's role is usually invisible to the listeners, but it's incredibly important. Wayne Laird, the producer of this album says he views his role as "giving the artists the best opportunity to achieve a result they will be proud of later. This includes recording multiple takes if they want to rerecord sections they're not happy with. I'm expected to have a musical point-of-view and share it frequently if necessary. But with Ioana Cristina and Andrey they are not only exceptional players, but they had toured this programme together, so it was easy to feel almost redundant as they played to their own, combined, very high standard!"
If the album was recorded last year, you might wonder why you've had to wait so long… Wayne gives us the answer about what goes on behind the curtain in postproduction. "On location, while recording, we are not hearing the result coming from the microphones in an ideal listening environment. Later, separate from the recording, the sound and the performance is evaluated more objectively, repairs are made from recorded takes to remove audience or environment noises, and the multiple microphones used at the sessions are mixed at various levels into a finished sound," he says.
If you want to hear the result, the album is now available on popular streaming services like Spotify, iTunes and Amazon. Or, you can get your copy of the CD here.