Day 2 in Queenstown New Zealand and it is a picture-perfect winter's day.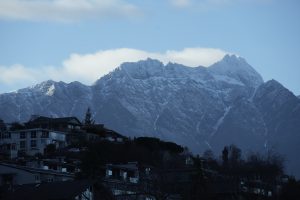 The session began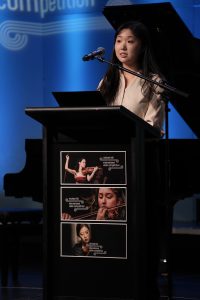 bright and early with our Insider's Guide presentation at 9:30am. Michael Hill Fellowship recipient KiHei Lee unraveled some of the mystery behind Paganini the violinist and composer in her talk The Devil's Violinist. She offered some fascinating insights to help enhance the audience's listening experience ahead of the 16 competitors' various Paganini presentations. Kihei's talk will also be repeated at 1.30pm ahead of this afternoon's session.
The Insider's Guide talk for tomorrow/ Sunday 4 June will feature Lucas Baker presenting Equal Partners? discussing the ins and outs and ups and downs that is the 'marriage' between pianist and violinist during a Sonata performance.
New Zealand-made instruments on display throughout the weekend…
Across the entire Queenstown weekend we have official competition Luthier Dick Panting and special guest Luthier Tobi Widemann on-site with an extensive display of instruments and equipment unique to their work.
During breaks and at interval the foyer area comes alive with musicians of all ages and stages trying out these bespoke instruments and experimenting with the various bows and equipment on offer.
During today's lunch break judge and past Michael Hill winner Ning Feng treated audience members to an impromptu showcase, "test-driving" several different instruments.
"It's incredibly valuable to have an artist of this calibre putting our instruments to the test" says Tobi.
"When the musician playing your instrument is this accomplished, they have the technique to really push the instrument to the extremes. I'm watching and listening to how the instrument responds and also how hard Feng has to work to achieve the sound he wants. It all helps me consider what is working well and what changes or adjustments I could make too… it is very exciting to be able to have this sort of input."
Feng seems suitably impressed too, exclaiming '…it's like tasting fine wine…' as he reaches for yet another instrument to put through its paces.
Overseeing proceedings is Dick Panting, one of Australasia's most acclaimed makers. His journey into life as a Luthier stemmed from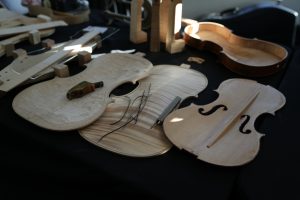 a long and high-profile career as a violinist himself.
"I always had an interest in making, and over time I just became more and more busy making and fixing up instruments, so when I retired from playing it was a natural career transition."
Dick's handcrafted creations are in high demand as are his services caring for existing instruments.
"Making an instrument and then being able to follow its path as it develops alongside its owner is one of the great parts of this job."
Audiences in the North Island should consider attending the Auckland String Sessions to check out the cohort of Luthier's who will be on display on Friday 9 June at the University of Auckland's School of Music.
Register your interest in this session and the other sessions through our Facebook event listings HERE
or read more about the Auckland String Sessions on our website HERE
QUARTER FINALS  |  Performers listed in order of appearance
ROUND 1 – Session 3
10.00 to 10.40am  |  Audrey Park (USA)
JS Bach Adagio and Fuga from Sonata No 1 in G minor
Paganini Caprice No 1
Tchaikovsky Melodie in E-flat major from Souvenir d'un lieu cher Op 42
Hubay Carmen Fantasie Brilliante
10.40 to 11.20am  |  Yuri Tanaka (Japan/Germany)
JS Bach Adagio and Fuga from Sonata No 1 in G minor
Paganini Caprice No 11
Liszt (arr Milstein) Consolation No 3
Bartok Rhapsody No 1
INTERVAL
11.35am to 12.15pm  |  Claire Wells (USA/Germany)
JS Bach Allemanda, Double, Corrente and Double from Partita No 1 in B minor
Paganini Caprice No 10
Chaminade (arr Kreisler) Serenade Espagnole
Ysaÿe Poeme Elegiaque
12.15 to 12.55pm  |  Ayaka Uchio (Japan/Germany)
JS Bach Ciaccona from Partita No 2 in D minor
Paganini Caprice No 17
Elgar Chanson de matin Op 15 No 2
Ravel Tzigane
 BREAK 
1.30pm  | INSIDERS' GUIDE – THE DEVIL'S VIOLIN with KiHei Lee
ROUND 1 – Session 4
2.00 to 2.40pm  |  Julia Mirzoev (Canada)
JS Bach Grave and Fuga from Sonata No 2 in A minor
Paganini Caprice No 17
Tchaikovsky Melodie in E-flat major from Souvenir d'un lieu cher Op 42
Carlos Simon Between Worlds (for Solo Violin)
2.40 to 3.20pm  |  Seonglan Hong (South Korea)
JS Bach Adagio and Fuga from Sonata No 1 in G minor
Paganini Caprice No 5
Sibelius Romance Op 78 No 2
Ysaÿe Sonata for Violin solo in D minor No 3 Ballade, Op 27
 INTERVAL
3.35 to 4.15pm  |  Aoi Saito (Japan/Germany)
JS Bach Adagio and Fuga from Sonata No 1 in G minor
Paganini Caprice No 10 in G minor
Tchaikovsky Melodie in E-flat major Op.42
Ernst Variations on the Last Rose of Summer for violin solo
4.15 to 4.55pm  |  Lorenz Karls (Sweden/Austria) 
J.S Bach Adagio and Fuga from Sonata No 1 in G minor
Paganini Caprice Op 1 No 22
Kreisler Liebesfreud
Ysaÿe Sonata No 6