It's the moment we've all been waiting for. We've had a marathon of emotion, beginning in Queenstown, with sixteen extraordinary young musicians sharing their passion and pathos, charm and confidence, vigour and vivacity.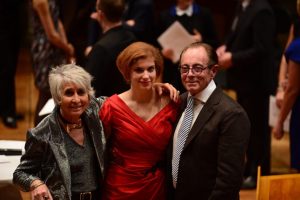 She is also invited to perform on Sir Michael Hill's magnificent personal violin, a 1755 Guadagnini named "The Southern Star", on her Winner's Tour, and will receive a gown by Kiri Nathan to perform in.
In tonight's Grand Final, the three finalists, USA's Luke Hsu, Goicea and New Zealander Benjamin Baker, each performed a concerto with the Auckland Philharmonia Orchestra.
Of the 2017 Competition, Sir Michael Hill says, "Nineteen years ago the idea for this Competition was born and it has never faltered in standard or its ability to put violinists on the international stage.
"Tonight's winner was a competitor four years ago and at the time said wouldn't return until she was capable of winning. She's worked very hard and her playing has matured – she proved what commitment, perseverance and tenacity can do."
The full top prize list is:
First Prize:        Ioana Cristina Goicea, Romania
Second Prize:   Luke Hsu, USA
Third Prize:       Benjamin Baker, New Zealand
Fourth Prize:    Olga Šroubková, Czech Republic
Fifth Prize:        Sumina Studer, Switzerland
Sixth Prize:       Kunwha Lee, South Korea
Luke Hsu also won the Chamber Music Prize for his poised and colourful performance of Mozart's String Quintet.
Olga Šroubková won the Prize for the Best Performance of the NZ Commissioned Work, awarded in Queenstown at the end of Round II.
Also awarded tonight was the Michael Hill Audience Award, which went to Sumina Studer from Switzerland.
It's been a wonderful journey – we're so glad you could join us, together with these wonderful young musicians.
It's time to say goodbye, but not for long – you'll be able to recapture the magic when Goicea returns for her winner's tour in 2018.
Let the celebrations begin!