Photography by Mikel Hoyle and Anne Rodda.
On the last day of October we close the chapter of the Michael Hill International Violin Competition 2018 Winner's Tour by featuring the stories, concert reviews and adventures of Ioana Cristina Goicea who saw off her tour last week with performing the Shostakovich Violin Concerto with the Auckland Philharmonia Orchestra at the Auckland Town Hall.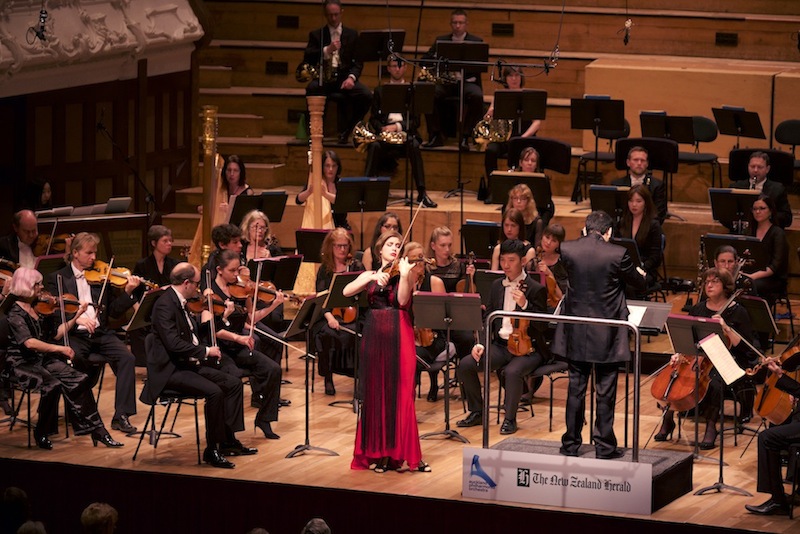 The week prior, Ioana undertook a variety of community outreach projects:  she judged the Auckland Chamber Music Society competition, workshopped University of Auckland violin students,  met and played and worked on vibrato techniques with the senior students of Sistema Aotearoa in Otara, and presented masterclasses at Diocesan School for Girls and ACG Parnell College with many of Auckland's great young violin talents.
She's a very warm and generous teacher – all the students commented on the positive and inspirational experience.
"Running a series of workshops for various musicians from 10 to 22 years old was an absolutely incredible experience!! I loved it a lot.." – says Ioana. "I feel 100% in my element when I am teaching. It is a similar feeling when I perform on stage. I felt that this was a part of me and I learnt so much about myself from teaching others. It was really an enriching feeling knowing that pupils benefited from the workshops and felt happy. Making other happy makes me the happiest person in the world" – Ioana shared.
The love for teaching definitely was one of the highlights for Ioana's personal growth and development. However, at this stage of her life she is primarily focused on her stage performance and violinist career.
That musical feast had marked the end of the Winners Tour 2018 for Ioana Cristina Goicea who is now off to grow her musical presence back to Europe. Feel free to follow her via Instagram @ioanacristinagoicea
The end of one chapter is the beginning of a new one. And that chapter can capture your story.
Will you join us in 2019?
If you are a young violinist who wants to make a breakthrough in the world scene and career, make sure to apply to take part in MHIVC 2019. Applications closing date is 15th November.
We look forward to seeing you in New Zealand.