Keep Up With The Play
Part 5. What girl wants, what girl needs…
As you might know our Russian-Romanian duo had turned into a female solo straight after Andrey Gugnin went back to Russia last week. His departure was a time for bittersweet emotions and goodbyes, but, who knows when those two meet again and inspire the audiences with their fantastic combined artistry? Winners' Tour 2018, as a part of The Michael Hill International Violin Competition, was definitely one of the kind experience for both musicians and our Australian and New Zealand communities.
To keep up with our standards we made sure that a solo journey would be as exciting and fulfilling for Ioana as travels together with Andrey. Therefore we organised a line-up of exciting experiences for our diva that would suit both of her needs and wants: professional and personal.
Today's story is personal. It is also a story about a special creative collaboration. It's like watching two magical world collide and create a perfect visual symphony. The fabulous fashion designer, Kiri Nathan, met Ioana to work on a new project together – design a dress to impress. But not just any old dress….  a bespoke gown made with strong attention to detail, personal touch, love for the arts and inspired by Ioana's energetic stage performance.
Kawa and tikanga – protocol, customs and integrity – are infused in Kiri's design and through her philosophy. Kiri's creativity has been paired with the talent of the Competition's female winners as a bespoke gown is part of the first prize package. "It is a humbling feeling", she says. "When I experienced my first competition, it was my first real exposure to just incredible violin talent, I remember sitting there on the first night and actually crying when I heard the music. It was absolutely beautiful."
During the fitting for the gown at the Pah Homestead, Kiri was focused on adjusting Ioana's dress to her professional unique needs, violinistic movement, and fashion style. "Ioana is a vigorous performer so I'll hand weave the beading in the front in the style of a korowai and attach that section to the waistband."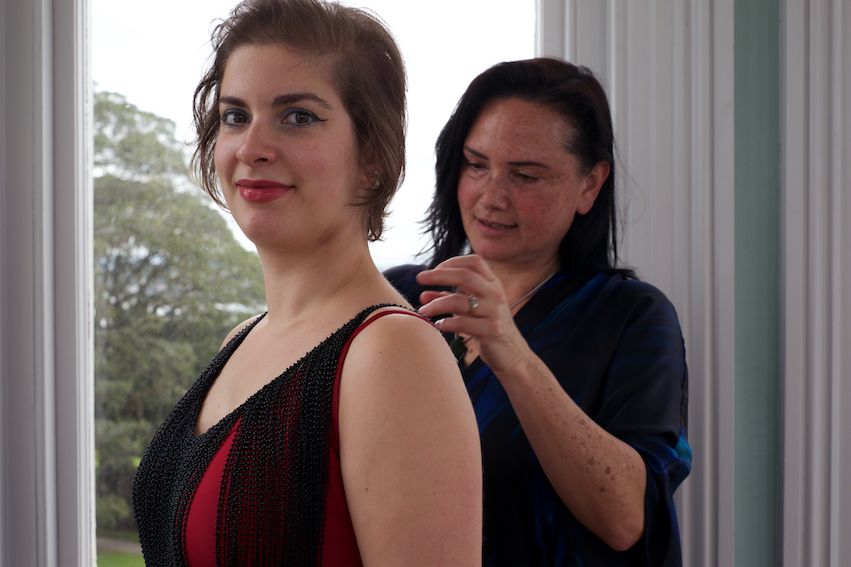 "It's an organic process that takes into consideration movement and the requirements of the violinist," Kiri states. "It's not about what they're wearing, it's about how the gown can fully support their entire performance," – she adds.
Feeling jealous? Please don't. We'd recommend applying to be a part of the Michael Hill International Violin Competition 2019, so you can introduce the bespoke designer's dress to your fashionable wardrobe.