Following two electric evenings of Semi-finals at Auckland's Town Hall, and four days of Quarter-finals in Queenstown before that, the three Finalists moving on to the ultimate round of the 2019 Competition were announced tonight.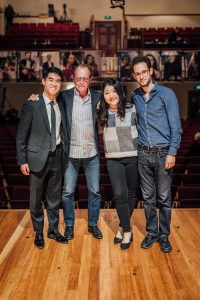 From 16 Quarter-finalists, to six Semi-finalists, the three violinists moving on to the Grand Finale are (in their performance order and with their selected concerto):
Jevgēnijs Čepoveckis (Latvia) – Shostakovich: Concerto in A minor Op 99
Do Gyung (Anna) Im (South Korea) – Sibelius: Concerto in D minor
Eric Tsai (USA) – Shostakovich: Concerto in A minor Op 99
Each finalist will perform their concerto with the Auckland Philharmonia Orchestra, conducted by Giordano Bellincampi.
The Winner receives NZ$40,000, a recording contract with the Atoll label, an intensive performance tour across New Zealand and Australia, a Michael Hill Spirits Bay pendant designed by Christine, Lady Hill, and a personalised professional development programme. The winner will also receive a gown by Kiri Nathan or suit by Working Style for their tour.
There are still tickets available for the Grand Finale through Ticketmaster.
The event is being streamed on www.violincompetition.co.nz and on the Competition's Facebook page, as well as on The Violin Channel's Facebook page. The livestream has seen an audience of well over 200,000 to date with many more expected this weekend.