NZ Herald Article – 26 September 2018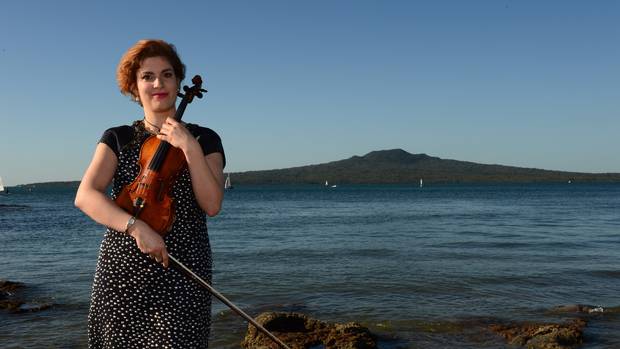 When Ioana Cristina Goicea picks up her phone she's in the United States, and at the midpoint of the Indianapolis International Violin Competition, one of America's most prestigious music prizes. Even so, this is Goicea's fourth interview of the day.
It's the price a young artist on the rise must pay and a portent of what's to come if her career continues its current trajectory. Since winning the 2017 Michael Hill International Violin Competition, Goicea has played Amsterdam's Concertgebouw in a "new masters on tour" programme; taken part in the prestigious Verbier Festival Academy, where she mingled with the likes of Pinchas Zuckerman and Takacs Quartet founder Gabor Takacs-Nagy; and claimed first prize in the German Music Competition. Not bad.
Goicea says that all going well, Indianapolis will be her last appearance before the judges. Still aged just 25, she could compete for a few years yet. There are no guarantees in her profession but Goicea's career is already at the point where she no longer needs the visibility competitions afford, though she doesn't regret the time she's spent on the competition circuit.
"[Competitions] are not just exposure," she says. "They make you better. The preparation makes you stronger and allows you to learn a lot of repertoire. There's the fact that you get to play a lot and gain much more experience. Then, of course, if you win a big prize …"
Goicea lets the implications of that go unspoken: if you win a big prize you get a big pile of cash — $40,000 in the case of the Michael Hill. Perhaps more importantly, though, your engagement diary is full. Last year's victory is why Goicea's in New Zealand, on a 10-date nationwide Michael Hill winner's tour for Chamber Music New Zealand that began on Monday and runs into October, ending in Auckland, which doesn't get a chamber recital but instead a concerto with the Auckland Philharmonia Orchestra on the 25th.
Accompanied on tour by 2016 Sydney International Piano Competition winner Andrey Gugnin, it's Goicea's first trip of such length and she's been preparing hard.
"The mental preparation is the most important, how you approach these works, having a very clear idea in your mind of what you want to achieve from the tour, how you want to play. I'm thinking about this a lot and it's very exciting."
Click here to read a full article via NZ Herald.