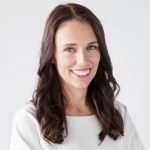 This year, in our programme book, the Rt Hon Jacinda Adern, Prime Minister of New Zealand and Minister for Arts, Culture and Heritage (pictured), offered these words:
"The Michael Hill International Violin Competition has raised the bar for violinists and string players in this country – inspiring our upcoming young players to reach for the stars. It has also been a positive step on the career paths of previous winners, with many now holding prestigious roles in world-class orchestras and enjoying international careers as solo performers.
"I would like to take this opportunity to thank Sir Michael Hill, Christine, Lady Hill and other generous sponsors for their commitment to this competition.
"It is thanks to their support that young players come here, from all around the globe, to play for us. In return, these exceptional musicians get to experience New Zealand culture and hospitality, including the natural beauty of Queenstown, host to the quarter-finals.
"To the competitors – the very best of luck. I am sorry not to be able to join you for what I am sure will be an exhilarating week of musical excellence."