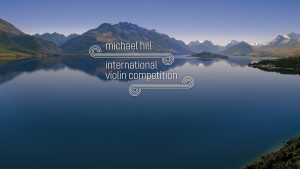 Media release
Monday 10 August, 2020
2021 MICHAEL HILL INTERNATIONAL VIOLIN COMPETITION CANCELLED

New Zealand's most prestigious international music competition taking a break in 2021. New Queenstown Music Festival to take its spot.
The Board of the Michael Hill International Violin Competition (MHIVC) has made the unsurprising yet still difficult decision to cancel the 2021 Competition, which was to have marked the prestigious event's 20th year.
In its place, over Queen's Birthday weekend in 2021 – when the MHIVC would have begun in Queenstown – organisers are creating a new event: a Queenstown Music Festival which will showcase some of the nation's leading professional musicians, the best up and coming (16-28 year old) New Zealand classical musicians, as well as Central Otago musicians and teachers.
The event will have a strong community and educational programme as well as a master/apprentice element for early-career event and festival workers.
Organisers are also working towards presenting a domestic violin competition in Auckland in 2021 and are initiating plans for a 2022 international edition.  More information on both will be announced soon.
Executive Director Anne Rodda says, "The Covid-19 pandemic has had enormous, adverse effect on the global performing arts industry. We are acutely aware of the lost wages and careers musicians across the planet are facing. The Board of the Michael Hill International Violin Competition is hugely sympathetic to this, but with no firm date framework about when New Zealand's borders will be open to international visitors, we cannot move ahead with our 2021 event. We trust that what we're planning in its place – two wonderful events – will be vibrant placeholders until we can welcome international violinists to our shores again."
For more information, please visit www.violincompetition.co.nz, the Competition's Facebook page or Youtube channel.
Ends
 For media information, images and interviews, please contact Siobhan Waterhouse at Mr. Fahrenheit Publicity on +64 22 126 4149 or siobhan@mrfahrenheit.nz