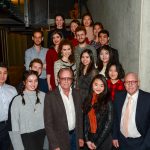 This year is our tenth competition. So, for fun, we've hunted down some interesting facts you might not already know about our 2019 competitors.
Our youngest competitor is Emmalena Huning at 18 years old. She hasn't started university yet, but has a spot waiting for her at the Royal Academy of Music in London
Competitor Matthias Ward will be performing his Ad Libitum (work of choice) with Queenstown local Mark Wilson accompanying him. Mark Wilson is an accordionist who is blind, and they will be collaborating to perform Russian folk songs
The country with the most competitors this year is the USA – Jacqueline Audas, Hannah Cho, Ashley Park and Eric Tsai. It's followed closely by Australia, which has three entrants this year – Emmalena Huning, Harry Ward and Victoria Wong
Jacqueline is an identical twin. Her sister is also a musician – she plays the cello. They are both pursuing their Masters' degrees in music performance
Ashley Park is the only competitor who has been to New Zealand before – she competed in the 2015 Competition. She says of New Zealand, "Alongside the breath-taking scenery, I have such fond memories of how fragrant the coffee was. I'm looking forward to having many New Zealand flat whites, and manuka honey on bread."
Two of Sir Michael and Christine, Lady Hill's grandkids are learning the violin. Naaaawwww…
This will be Sarah Watkins' 10th Competition as collaborating pianist – she's been with us from the beginning!
Matthias Well has 39 first cousins!
Before Harry Ward started playing violin, he hounded his mother into getting a one for him by walking around the house playing a tissue box with a ruler
For Tianyu Liu, this is the first prestigious international violin competition in which he has competed…but we're sure it won't be the last!
Make sure you have your tickets to see these wonderful competitors doing what they do best.