When semi-retired Queenstown businessperson Danny Conroy took on the task of dealing with his uncle Allan McDermott's estate, he had no idea of the rich musical legacy he would find.
"I just knew that Allan was a violinist and played in the Dunedin Symphony Orchestra; I had no real knowledge of his violin or the value of it at the time," says Danny.
Charged with dispersing Allan's estate on behalf of his mother (Allan's only surviving sibling) Danny retrieved the violin from Allan's lawyer, where it had been held in an office for almost a decade. "Even though she was getting a bit vague in her memories of Allan, [my mother] burst into tears when I showed it to her so she obviously remembered it."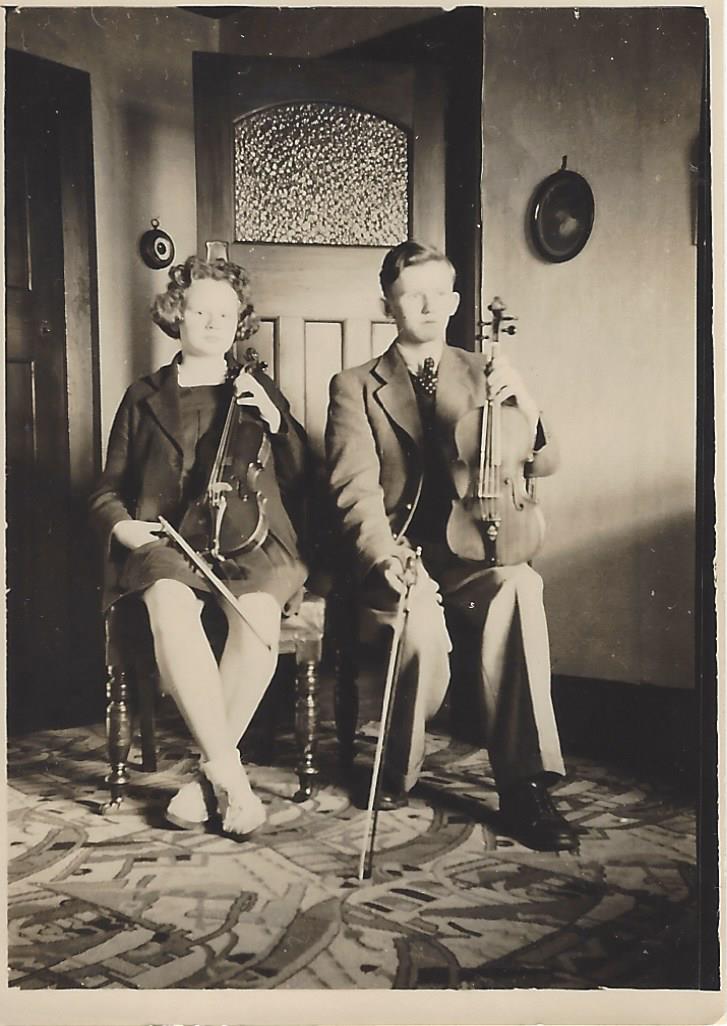 Allan as a teen with his sister (likely Danny's mother), image courtesy of Danny Conroy
Danny himself didn't know his uncle well. "I remember him only vaguely… he was gay, which at the time of course was an unacceptable thing and illegal, so that probably defined a fair bit of his early life and perhaps partly explains why he became a little reclusive in his later years."
Sorting through memorabilia and old documents, Danny pieced together a picture of his uncle. Born in 1930 in Port Chalmers, Allan spent his early life in Invercargill where he taught himself piano, harmonium, and other keyboard instruments. He got himself started on the violin as a teen, at the same time as starting his first job at the Dunedin General Post Office, and from that point he made rapid progress, going on to gain a Bachelor of Music at the University of Otago, and then winning a scholarship to study in London, where he gained diplomas in Violin Teaching from the Royal College and the Royal Academy.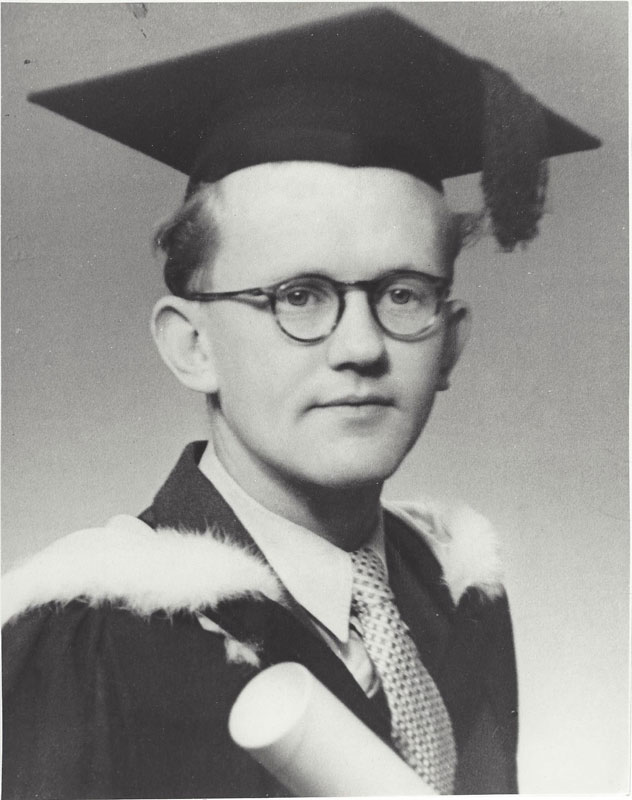 Allan McDermott 1930-2016; graduation (Otago University) image courtesy of Danny Conroy
Arriving in London in 1957, it was time to upgrade his instrument and, with the financial backing of his father, a relatively well-off manager for Hillside Works, Allan purchased the instrument that was to be his partner in all his future musical endeavors and that is now held by the Conroy family.
Returning to Dunedin, Allan played and taught, joining the Dunedin Civic Orchestra (now the Dunedin Symphony Orchestra) from its inception in 1966 where he played for forty-one years, including serving periodically as Concertmaster between 1974 and 1991.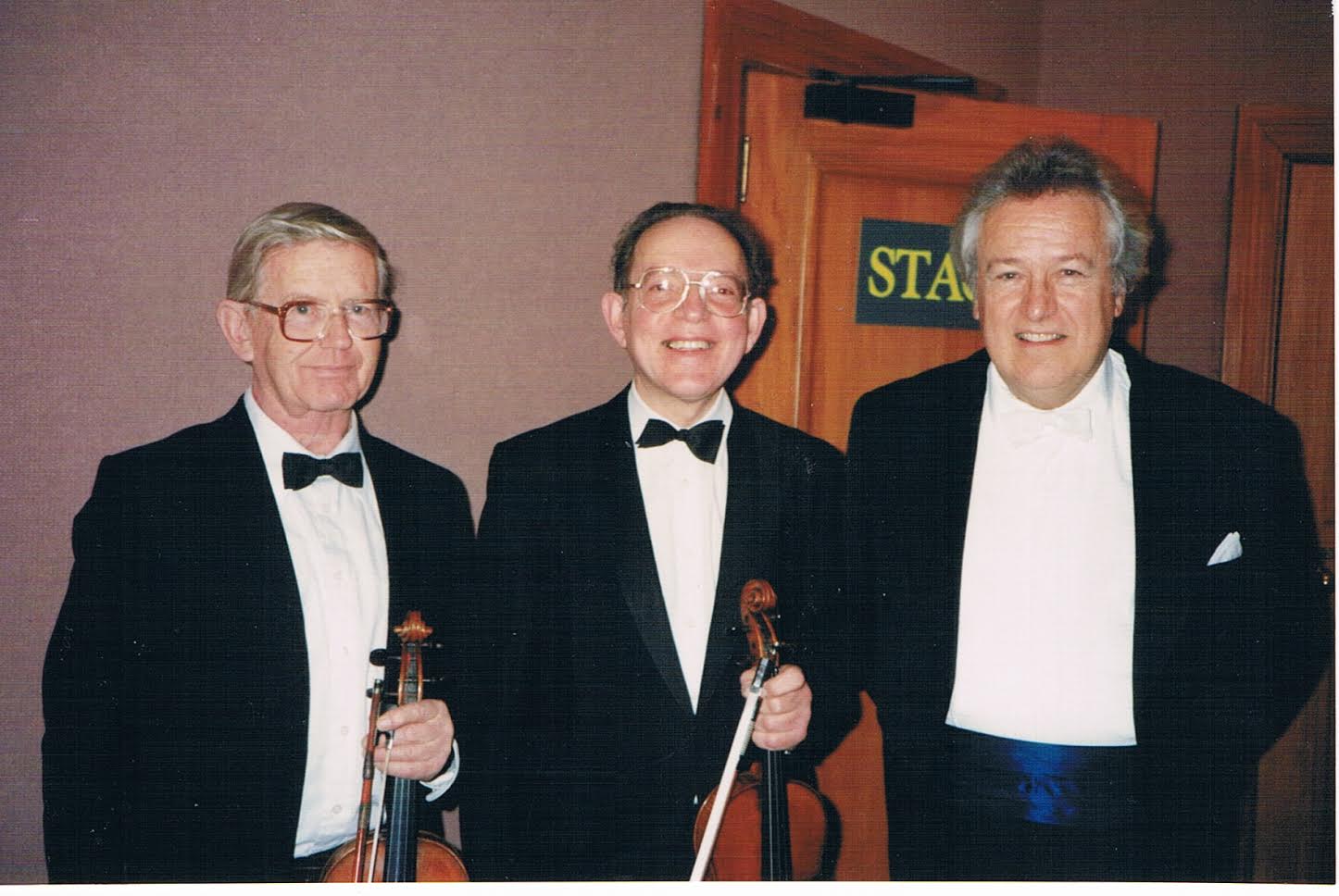 L-R Dunedin Symphony Orchestra Concertmasters Allan McDermott, Sydney Manowitz and Conductor Nicholas Braithwaite backstage. 1997 – All three studied in London at the Royal Academy of Music. Image courtesy of Dunedin Symphony Orchestra
His colleagues recall him as being reserved and dignified, a humble man who was personable and friendly to players of all ages. "He approached his music with meticulous dedication, always very professional and aiming for excellence and perfection," says second violinist Pat Leen, another founding member of the orchestra. Double-bassist Pat Dean knew Allan well and she recalls: "Allan was a quiet self-effacing man and a deeply thoughtful and fine musician." This humility comes through as Allan reflected on his career an interview for the DSO Oral History Project in 2005: "I've enjoyed, well, everything mostly, and I've had great thrills and inspiration from some of the things."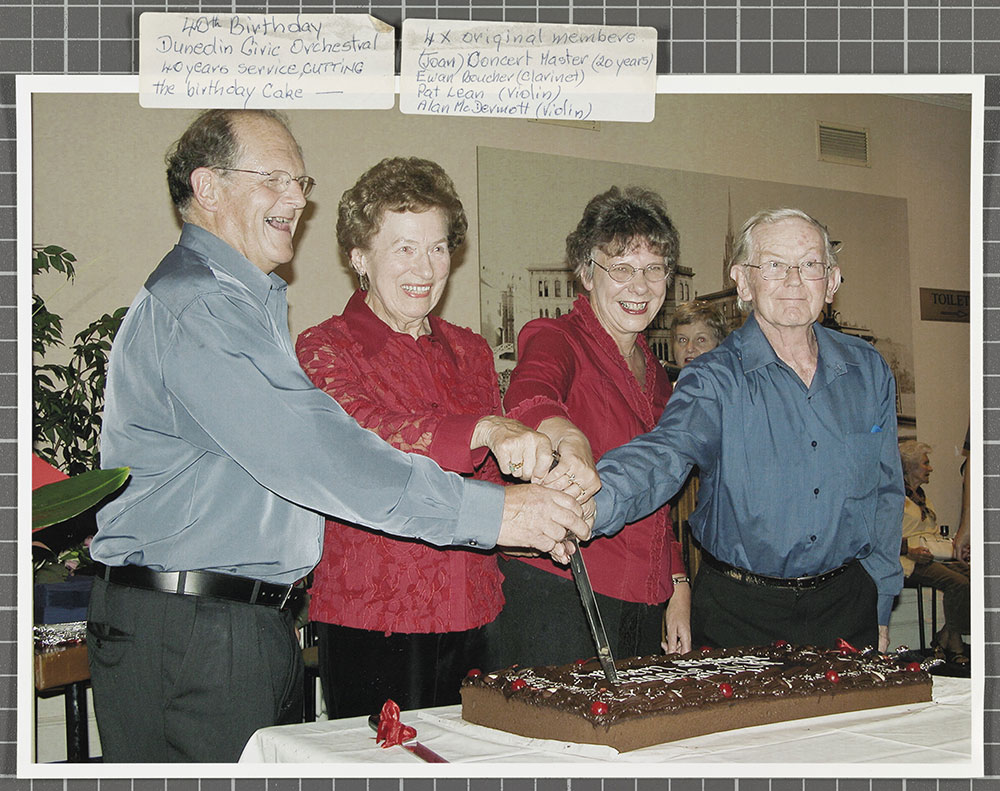 Four original members of the Dunedin Civic Orchestra, 2006 cake-cutting at 40th birthday celebrations: L-R Ewan Boucher (clarinet), Joan Gardiner (violin), Pat Lean (violin) and Alan McDermott (violin) Image courtesy Dunedin Star Newspaper; Hocken Collections – Uare Taoka o Hākena, University of Otago
As well as being an exceptionally creative person, playing, teaching (violin and viola!), conducting, and composing, Allan was also a keen hiker. Homesick for the beautiful New Zealand scenery after his studies abroad, he threw himself into hiking many of the well-known tracks around the South Island: "for a young skinny-looking guy that he was, it surprised me when I found all these photos of him halfway up mountains!" says Danny.
Danny's next task was to understand the value of the instrument. "It was bizarre because I had picked it up and I didn't know what to do with it. On behalf of my mother… I contacted several valuable instrument sellers in London, New York and Rome and they all had a strong interest. At that point I realised it was a little more valuable than we had thought."
Now just over 300 years old, Allan's violin was made in Milan by Carlo Antonio Testore. Like the Stradivari and Guaneri families in nearby Cremona, the Testore family was a dynasty of violin makers. with Carlo Antonio learning his trade in his father's workshop and passing the mantle on to his own son in turn.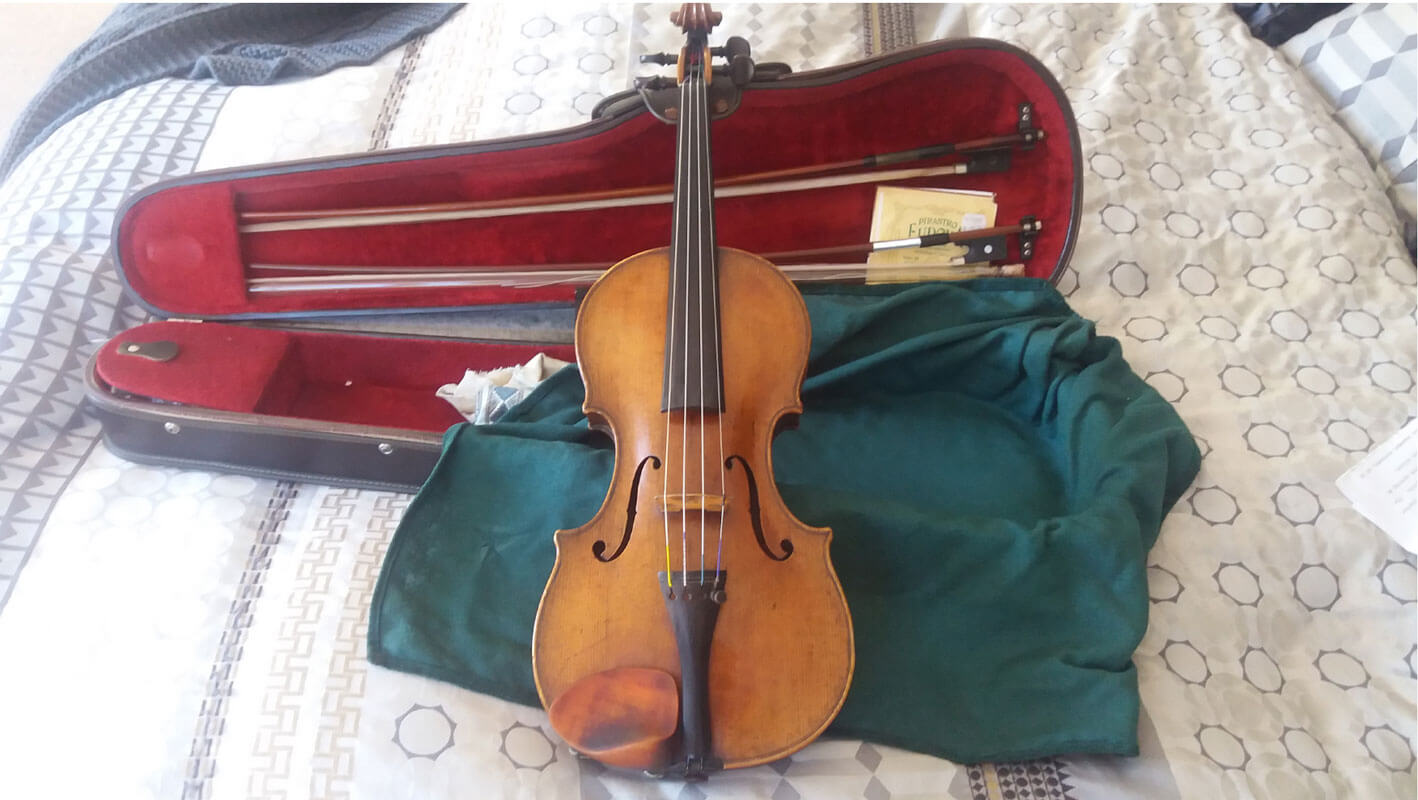 An article in a local newspaper motivated Danny to get in touch with the Instrument Bank (recently launched by the Michael Hill International Violin Competition Charitable Trust), which seeks to connect people in possession of currently unused fine instruments with young musicians for whom purchasing an instrument may be out of their reach.
Danny then met with Sir Michael Hill who played the instrument, and while acknowledging it needed some maintenance after a period of inactivity, "he (Michael) felt it was a really special instrument and he was very grateful for the opportunity for it to be part of the Instrument Bank."
"It's a lovely thought," says Danny of the Instrument Bank. "While at some point we will need to sell the instrument, the family all agreed that in the interim it would be a good thing to have [Allan's violin] looked after, played, and become publicly known again."
Allan's Testore is now restrung and returned to readiness for playing. "It has that special old quality of sound," says Andrew Beer, Concertmaster of the Auckland Philharmonia Orchestra. "Playing it is like drinking a 25-year-old Bordeaux blend that's been stored at just the right temperature, humidity and light levels. It's equally fun to play Tchaikovsky and Bach on it, and it will be a real treat for the young musician who gets to borrow it."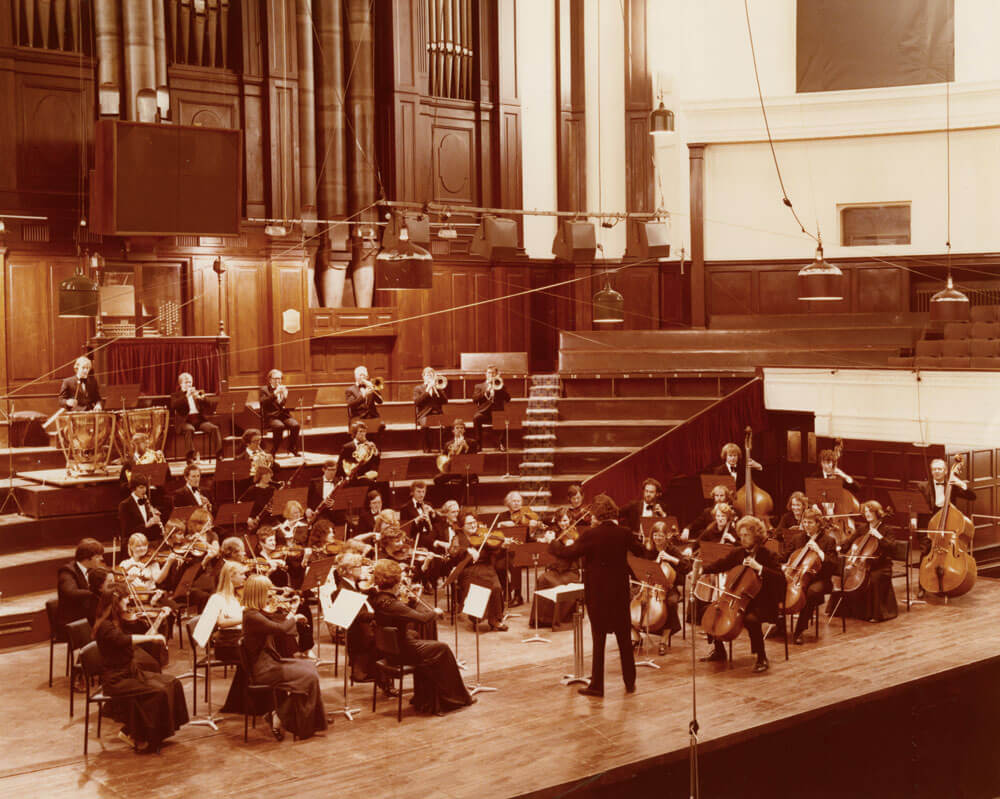 Dunedin Civic Orchestra, 1979. Allan performing in the front stand of the first violins, next to Joan Gardiner with whom he shared Concertmaster duties for many years. Campbell Photography, P1999-031/2-001, Hocken Collections Uare Taokao Hākena, University of Otago