Acclaim
"Not only does Yu and his famous "Joachim" Stradivarius produce a remarkably mellow and sensitive tone, but he is also a master of the line and story implied by the arc of even the purest music as in these two sonatas. There is something magnetic about what we hear, and the heart is tied to the outcome, an outcome that never disappoints."
-Herald Tribune, June. 2021
Profile
Musical Education
New England Conservatory of Music, Shanghai Conservatory,
Principal Teachers
Donald Weilerstein, Miriam Fried, Qing Zheng,
Appointments
Second Violinist- Shanghai Quartet (2020-); Resident faculty member- Tianjin Juilliard School (2020-); Chamber Music Society of Lincoln Center's Bower Program (2017-); Former faculty member- New England Conservatory, Massachusetts Institute of Technology, John J. Cali School of Music at Montclair State University
Awards
Avery Fisher Career Grant (2019); Lincoln Center Emerging Artist Award (2019); First Prize, Bach Prize, and Audience Prize- Yehudi Menuhin International Violin Competition (2010); Second Prize- Wieniawski Violin Competition (2006); Second Prize, Best Commissioned Work-  Klein International String Competition (2010)
---
Original Article from www.theviolinchannel.com
VC WEB BLOG | VC 'Artist' Angelo Xiang Yu – 'Michael Hill Comp – Mixture of Joy and Sadness'
Posted June 11, 2015 in ASK THE PROS, NEWS, WEB BLOGS and Angelo Xiang Yu, Guest Blog, Michael Hill International Violin Competition, Mother Death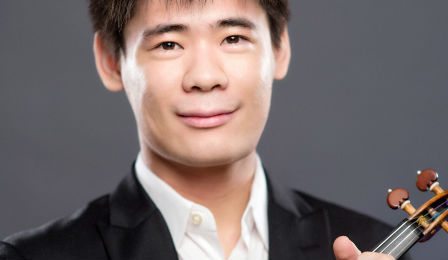 With the 2015 Michael Hill International Violin Competition entering its final stages in Auckland this weekend, VC recently caught up with a number of former prize winners to get a better understanding of their New Zealand experience.
Former 3rd prize winner, VC 'Artist' Angelo Xiang Yu guest blogs about his overwhelming, yet heroic experience at the 2011 competition – with the death of his mother just 2 days prior to the start.
"My Michael Hill Competition experience was a mixture of joy and sadness.
It was 4 year ago, a month before the competition, my dad called me from China while I was having lunch at the student lounge of New England Conservatory. By then my mom had been suffering from leukemia for more than 20 months, and my dad told me that she had less than a month to live and it would be nice for me to go home immediately.
So I finished all the school final work in 2 days, and flew back to Shanghai, where my family lives.
My mom was on the edge of losing consciousness when I saw her, but she could still recognize me, and from time to time she would whisper to me in a very low voice. When I mentioned the competition in New Zealand to her, she seemed to be very happy and encouraged me to go. After just one week, she could barely say anything already.
For many times, I wanted to email the competition that I was not able to participate. On top of the circumstance in my family, I had an injury in my left hand due to stress and pinched nerve which gave me constant pain and numbness, so I almost couldn't practice at all during that entire period.
I spent the next two weeks mainly in hospital, sitting beside her bed and tried to learn two new pieces by mentally practicing. 1. The commissioned work of that year was a wonderful solo piece called Gyftiko by New Zealand composer John Psathas. 2. Beethoven Ghost Trio, which I never played before, only sight-read it once with some friends of mine in Boston.
I don't know if it was God's plan, my plane ticket to New Zealand was on May 28th, 2011, and that very morning, my mother took her last breath in front of me. I rushed to the airport, the world turned into grey, and I lost the courage to even shed a single tear.
I was not able to sleep during the flight, so I put on my earphone, listening to the Ghost trio by Beaux Arts many times, and wrote down everything in my mind in the score and part.
18 semifinalists from all over the world had to give two recitals in Queenstown, I did not expect myself much due to my poor preparation, I only hoped that I could get through the recitals without memory slip. I remember I started the first recital with Bach's g minor Adagio, which all of a sudden became the most difficult thing in the world – I realized how weak my hands were after not regularly practiced for more than 2 months, let alone with the excruciating sadness after my huge loss just 2 days ago. I remember my hands started shaking in many places, and I had to close my eyes from time to time to oblige myself to focus.
It really took me by surprise when I heard my name in the finalists announcement, as I did not expect that at all. It was a strange feeling – so happy that I would get the chance to work and perform with two world-class musicians on the Ghost Trio; but on the hand really sad that the burden on my shoulder became even more.
Six of us flew to Auckland for the chamber music round.
Chamber music has been my major passion since age of 13 when I formed my first quartet in China, and I was so glad that this competition has a specific section dedicated to this area. Working with cellist Ashley Brown and pianist Michael Houstoun was like walking in the heaven – everything seemed so natural, friendly, and easy. Even on stage, I didn't feel that I was in a competition environment. Funny enough, after we finished our performance, these two artists still could believe that I never played this piece. I guess in some cases we need to practice a lot to form a sense of steadiness, but other times we might need certain "freshness" to inspire ourselves as well as other people. I guess that's what I learned from it.
I always try not to recall the memory of my concerto round. Even though I performed the Prokofiev Concerto No.2 before at the Menuhin Competition, I haven't touched it since then, and didn't have much chance to review it. Also after some these previous round my hands got so tired and started to have some serious pain. I remember that I had to take 4 pills of pain killer before the performance, and for once in the second movement my mind completely stopped, but the fingers were magically moving by themselves.
I really don't know how I got through the concerto, it was like a dream. The only thing I remember was that my mom's face appeared many times as I closed my eyes, and I kept telling myself not to give up, not for myself but for her.
It was not my best performance, but I'm actually proud of myself, as my goal was not the win the competition, but to fulfill my mom's last wish. So I'm happy that I was brave enough to complete this journey despite of all the difficulties.
Two weeks went really quickly. I had such great time with my two host families. I went fishing and hiking with my Queenstown host Trish and her son Lukas, and in Auckland my host Sir James inspired me with all his art work at home, which was like a modern art museum! Most importantly, I became friends with many of the competitors there, but had to say good bye to them so soon, as if you almost have to leave a garden when you know that the flowers are about to blossom."