Acclaim
"He played with sweet tone, deliberate phrasing and vigor …"
-The New York Times
Profile
Musical Education
Curtis Institute of Music, The Juilliard School
Principal Teachers
Itzhak Perlman, Ida Kavafian, Jaime Laredo, Vaclav Hudecek, Shmuel Ashkenasi
Appointments
Concertmaster- Czech Philharmonic Orchestra (2011-2020)
Awards
Finalist- Queen Elisabeth Violin Competition (2012); First Prize- Klein International Strings Competition (2009); Laureate of the Carl Nielsen International Music Competition (2008)
---
Original Article from www.theviolinchannel.com
VC WEB BLOG | VC 'Artist' Josef Spacek – 'Michael Hill Comp Opened My Career Path'
Posted June 10, 2015 in ASK THE PROS, NEWS, WEB BLOGS and Guest Blog, Josef Špaček, Michael Hill International Violin Competition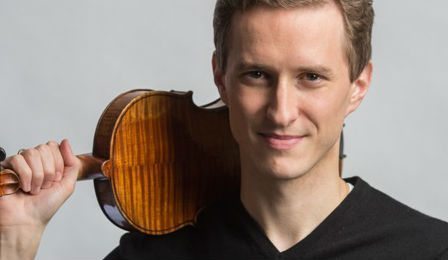 With the 2015 Michael Hill International Violin Competition currently underway in Queenstown and Auckland, VC recently caught up with a number of former prize winners, to get a better understanding of their time in New Zealand – and the opportunities the biennial event has since presented.
Czech Philharmonic Concertmaster and former 1st Prize winner, VC 'Artist' Josef Spacek guest blogs about his 2009 experience.
"I was a student at the Curtis Institute of Music, in Philadelphia when I first heard about the Michael Hill Competition, in New Zealand.
A few of my classmates had told me it was an amazing experience, so in 2009 I set about applying.
Unfortunately my entry tape was rushed and not my best, and I was initially wait-listed as the competition's 1st alternate. But luckily someone dropped out and the spot opened up for me.
I traveled to Queenstown with little expectation, as I had not done the preparation I felt was required, but thought "a free trip to the most beautiful country on Earth – heck yes!"
I think this lack of pressure allowed me to relax though – and ultimately aided me in producing some of my best competition performances.
When the winner was announced, and it was me – I could not believe it. I was in complete shock!
Since winning the 2009 competition, the exposure it generated opened up many new paths for my career – including large amounts of local media in my native Czech Republic, which has aided me enormously.
But I think the most valuable asset from the prize was the 5-week tour of New Zealand which allowed me the opportunity to perform concertos, recitals, give interviews and conduct teaching masterclasses – literally thrust me into the real world.
The made-to-measure development prize also assisted me immensely – providing me the opportunity to work with a New Zealand physiotherapist on my body alignment and it also delivered me with a beautiful, perfectly tailored concert suit, which I still wear today.
Throughout the past 6 years, I have also learnt so much from Sir Michael Hill himself. He has been a wonderful mentor and friend to me and I am so very grateful.
Sir Michael taught me a lot about goal setting and the visualisation of my future – and he was even on hand, with handy advice when the time came to purchase my beautiful wife's engagement ring."